ATTENTION! Current Tribal Card Holders
We will be replacing your cards with new ones. If the information on your current card is no longer correct because you legally changed your name for some reason, for example got married and have not yet contacted the tribal office with this new information, you must do so asap. You will have 60 days to do so, then new cards will be printed.(SEE TIME LEFT BELOW) Also if you have moved and did not leave a forwarding address, you must also contact the tribal office so we have your current physical and mailing address. 
Time has expired for changing your information on your card.

THANK YOU FOR YOUR INFORMATION, WE WILL HAVE YOUR NEW CARDS SOON
Design Request
Thank You to all who submitted a Tribal Seal design!
2019 Annual Fundraiser
The annual Salinan Tribe trap shoot & BBQ Fundraiser was a great day with the tribal members and friends. The rain held off until shooting was done, then we moved inside for BBQ tri-tip, chicken, salads, beans, salsa, & BBQ bread. Topped it off with homemade strawberry shortcake. Congratulations to all of the winners! A top prize of $4,000, many other cash prizes, plus 2 rifles, a hunting bow, 50/50 drawings & bingo cash. Thank you to all those who helped make it all happen! All food was cooked, prepared, and served by tribal members and friends. Another big thanks to all who stayed to help with clean up.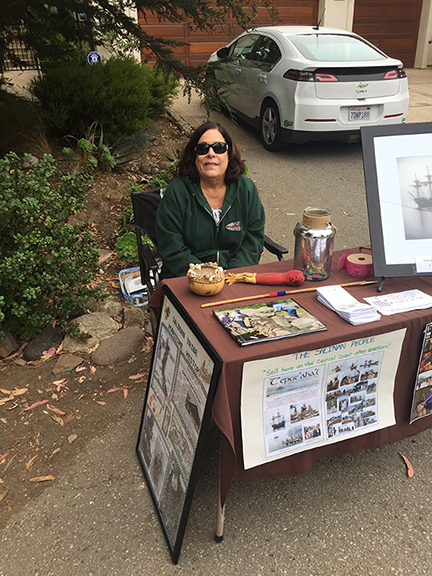 Our Tribal Administrator, Patti Dunton at the "Save Eagle Rock" fundraiser. Eagle Rock is a Salinan Sacred Site, registered with the State of California. For the last year the Morro Bay History Assoc. along with the Morro Bay Open Space Alliance along with our Tribe have been involved in raising funds to purchase the peak. The City of Morro Bay purchased the peak a year ago, keeping it from being developed. They gave The Alliance three years to raise the funds to purchase the peak, before it goes back on the market. So we only have two more years to raise the funds to save our sacred site. Thanks to all who have donated so far.